Class One 2017/18
Welcome to Class One's page! Class One comprises of 17 children in Years 1 and 2. We always have lots of fun in our lessons and we try always try our hardest with Mr Attkins and Mrs Sherwood.
This year our topics are:
Autumn 1 : Family Album
Autumn 2: Fire! Fire!
Spring 1: Penguins, Possums and Pigs
Spring 2: Fighting Fit
Summer 1: Castles
Summer 2: The Farm Shop
Each week a 'Writer of the Week' will be chosen. Click here to see some fantastic pieces of writing!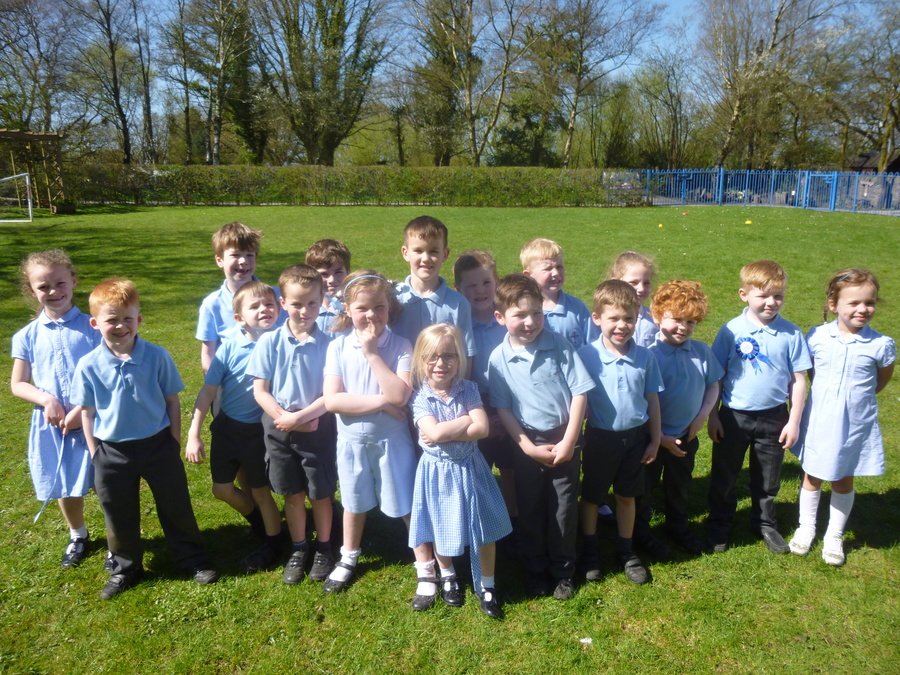 Forest School - 21st June 2018
Today we completed our Forest School morning with Mrs Britton. We had lots of fun making crowns from items we could find. We also enjoyed toasting our own marshmallows and making s'mores with them using biscuits. We finished off our morning by making clay faces on the trees. There were lots of different designs of these. You can see them all below...
Making Flowering Plants 9th May 2018
We have been learning about plants in our Science this half term. We made our own flowering plants with the different parts on them that we have been learning about. As we were making the plants we were discussing the different parts of the plant and what they did.
The Farm Shop - Planting Seeds 20th April 2018
We have been given seeds by Gardening Club to plant in our class beds so today we went outside to plant them. We raked the beds and then planted the seeds into trenches we had dug. We planted spring onions, 2 types of lettuce, radishes and a sunflower each. We will make sure they are regularly watered and we are very excited to try our tasty food!
Maths - Money and Weight
Since we have been back at school from the Christmas holidays we have been learning about money and weight. We have learned about the different coins in the UK and how to make different amounts using them. We have also learned how to give change as well. When we have been learning about weight we have been comparing objects to 1kg then we have used balance scales and scales with dial on them to weigh different objects.
The Great Fire of London
We have been learning about the great fire of London in class this half term. We have had fun learning about how London was very different in 1665 and that the reason the fire spread so quickly was that the houses were made of wood and were so close together. Today we made our own versions of the houses using cardboard boxes.
KS1 Sports Hall Atheltics Festival
On 29th November Ellis, Leighton, Lucas, Ellie, Kendall, Lilia and Poppy competed for school in the Sports Hall Athletics Festival at St. Bede's High School in Ormskirk. They competed very well and showed their credentials as future sports stars. Have a look at some of the photos of the competition below.
Pobble Writing Workshop - 20th November 2017
Today Lucas, Theo and Tom were lucky enough to be invited to Our Lady's Primary School in Parbold to take part in a writing workshop. The boys had a great time and came up with some brilliant writing. Take a look at their writing in the slideshow underneath or click here to go to the school's Pobble page.
Remembrance - November 2017
This week we have talked about the significance of the poppies that we wear every year. We watched the 'Poppies' video made by Cbeebies and talked about the conditions that the people in the trenches must have faced. When it was activity time Ellis, Lucas and Tom made their own memorial for Remembrance Day. It has been posted below.
Shape Week - November 2017
This week we have been learning about 2D shapes. We have been naming them and looking at their properties. We have also been finding them in our class and then looking at whether different 2D shapes are symmetrical or not. Another activity we did was to make our own symmetrical patterns.
Farm to Fork Trip to Tesco Wigan - November 2017
On 7th November we visited the Tesco Extra store in Wigan as part of their Farm to Fork project. We had a brilliant time looking around the fish counter and the bakery. We even tried a piece of ciabatta and a chocolate chip cookie! Before we left for school we made our own pasta pots which were very tasty. All of the class decided that we wanted to go back for another visit as soon as possible!
It couldn't have been made possible though without the help of the parents who helped transport the children. Many thanks again!
Sukkot - October 2017
After learning about the Jewish festival of Sukkot Lucas, Theo and Tom made their own Sukkahs in the playground. They remembered the key features that we learned about and made sure they put those in.
Diwali - October 2017
This week we have learned about Diwali and the significance of it to Hindus. We really enjoyed the story of Rama and Sita and how Rama got Sita back from Ravana with help from the Monkey King. We also made our own Diwali lamps in class.
Measurement Week - October 2017
This week we have been measuring different items in class. We have also been measuring different body parts using measuring tapes and border rolls. When we measured using the border rolls we ordered these and stuck these into our book. We noticed that our arm span was very similar to our height.
The Gingerbread Man - October 2017
During the autumn term we read the Gingerbread Man story and made our own versions up. We also had fun making our gingerbread men.
The Little Red Hen - September 2017
We have been learning about the Little Red Hen story this week. We wondered how hard it was to mill wheat into flour and so we tried it for ourselves. We found out that it was very hard and took lots of effort! We used all of our knowledge of the story and of milling to lead our worship in church at the end of September.