Class One 2018/19
Welcome to Class One's page! Class One comprises of 16 children in Years 1 and 2. We always have lots of fun in our lessons and we try always try our hardest with Mr Attkins and Mrs Sherwood.
This half term our topic is 'Robots'. In the spring term our topics will be 'Growth and Green Fingers' and 'Excellent Explorers'.
Each week a 'Writer of the Week' will be chosen. Click here to see some fantastic pieces of writing!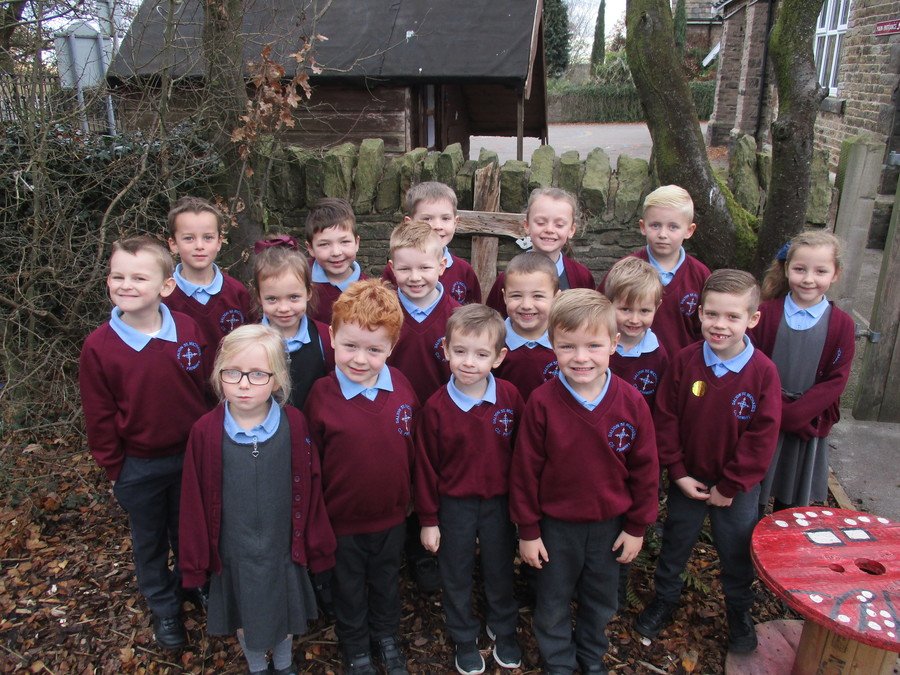 Robot Poetry - 5th December 2018
This week we have been learning different poems about robots. Today we worked together to perform a poem. Here is our poem:
Hope Journey Workshop - 3rd December 2018
Today Year 2 visited the Hope workshop at the Upholland Methodist Church. During this workshop the children met all of the different characters from the story of the first Christmas. The children especially loved meeting the innkeeper and the grumpy donkey. Whilst we were there everybody commented on how well behaved we all were.
Sports Hall Athletics Event - 27th November 2018
We went to the Sports Hall Athletics Event at St. Bede's School last night. We had lots of fun competing in the obstacle relay, under over relay, sprint relay, speed bounce, javelin and standing long jump events.
Money Week - 19th November 2018
This week our topic in Maths has been money. We have been learning about the different coins in the British monetary system. We have also learned about the equivalent values of the coins and we have started to learn how to give change when we are buying things.
Visit by the Firefighters - 20th November 2018
Today we were visited by our local firefighters. They were talking about what to do in case of a fire and the importance of creating a fire plan with our parents. We had lots of fun listening to their stories and dressing up.
Counting in 2,5 and 10 - 31st October 2018
Today we were counting in 2,5 and 10 again. This time we used pumpkin seeds to do it as a Halloween treat. We got all of the seeds out of the pumpkin and then put them into rows of 2,5 and 10 to count them. At the end of the lesson we looked at how this is related to multiplication through arrays.
Life Education Bus
Today we went onto the Life Education Bus and met Harold the Giraffe. He taught us all about the different parts of the body and he also taught us how to stay healthy.
Katie Morag Clay Models - 2nd October 2018
Today we made our own clay models of different parts of the Isle of Struay. We made models of the Redburn Bridge, The Post Office, Castle McColl and the supply boat among other things.
Measurement - 26th September 2018
This week we have been learning how to use the rulers to measure different objects. Today we measured different parts of our body. We used border rolls to measure different parts, such as our arm span, and then we used a metre stick to see how long they are. Once we had all measured the different parts we compared them using <, > and =.
Topic - Old Fashioned Games - 13.9.18
Today we were learning about games that were played in the olden days. We played the clapping game 'A sailor Went to Sea, Sea, Sea' and the running games Foxy-Chicken-Hen and The Shepherdess and Her Sheep. In Foxy-Chicken-Hen is similar to 'What's the Time Mr Wolf?' and The Shepherdess and Her Sheep is very similar to 'British Bulldog'. We had lots of fun playing these and we definitely want to play these again!
Science - Lego
This half term we are looking at famous scientists and inventors. This week we have learned about Ole Kirk Christiansen. He invented lego nearly 70 years ago, we discussed the different properties of Lego and talked about why it was good for building models. We then built some models to demonstrate it's properties.
Monet - September 2018
This half term we are learning about landscapes and cityscapes with Mrs Sherwood. This week we looked at Monet's 'Water Lily Pond' and then we created our own versions of this. We used our fingers and cotton buds instead of paintbrushes.
Place Value - September 2018
This week we have been practising our counting and looking at how numbers are made. We have been looking at hundreds, tens and ones and comparing numbers. To apply our knowledge we have been picking numbers at random, saying what they are and then getting the correct number of cubes or ten sticks and ones. Also, we have made models using the tens and ones and got our friends to work out what our model was worth.